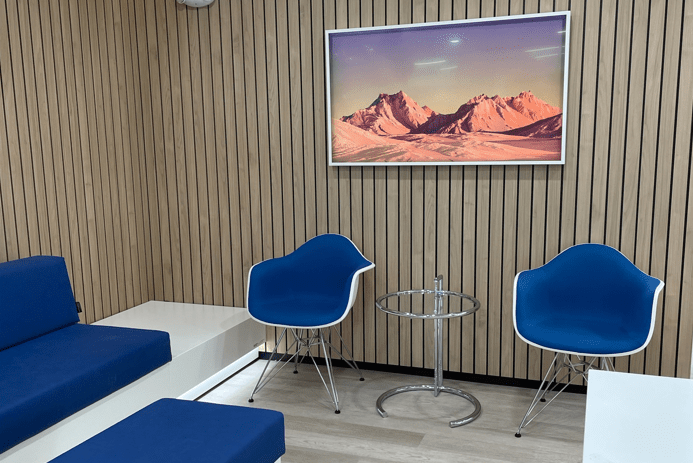 How to Add Color and Pizazz to Your Modern Minimalist Office Design
Modern dental office design that features brightly lit spaces, clean lines, spacious interiors, and an overall simplicity serves up sophistication and a sense of tranquility. Of course, minimalism can be a bit dreary if you don't take pains to add a dose of personality. 
Color is a great way to add some pizazz without detracting from your minimalist aesthetic, and there are a few great ways to incorporate color into your design.
Consider Color Psychology
Before you decide where to add pops of color, you need to think about which colors best represent your brand, support your goals, and express modern interior dental design. 
Most dental practices want clients to feel comfortable upon entering the office and confident in the care they're about to receive. The colors you choose need to impress upon clients that your practice is professional, modern, reliable, and trustworthy.
Colors have different psychological impacts. They can affect the impression you make and the general mood of your clients. Blue tones, for example, are typically considered peaceful, while greens can evoke the beauty of nature and produce a calming effect.
Bright, sunny yellows are often associated with happiness but may be overwhelming if overused. Cool or warm undertones can make a difference as well. Understanding the psychological reactions colors induce is an important aspect of choosing the right hues for your dental office design.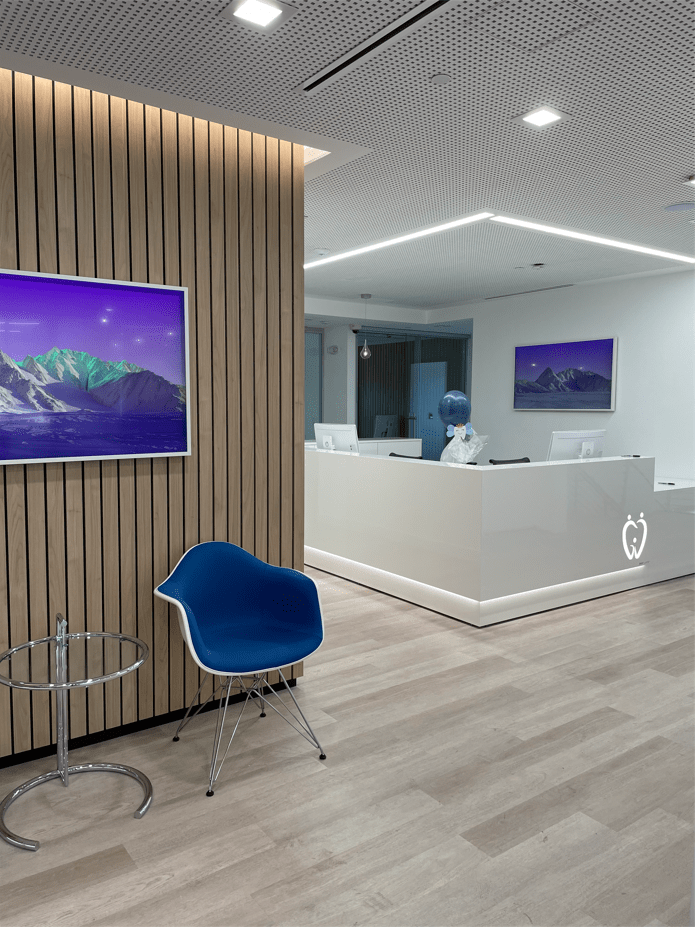 Where to Add Color to Your Modern Interior Dental Design
Once you've selected a signature color that supports your brand image and creates a welcoming atmosphere for clients, it's time to decide how best to employ it in your office space. There are several appealing possibilities.
Your Logo and Other Signage
What better way to add a pop of color than with your logo? This will make it extra eye-catching and create positive associations with your brand. 
When you place a large logo in your reception area and sprinkle it throughout the office on brochures or branded merchandise (mugs, totes, dental items like toothbrushes, etc.), you'll reinforce these impressions.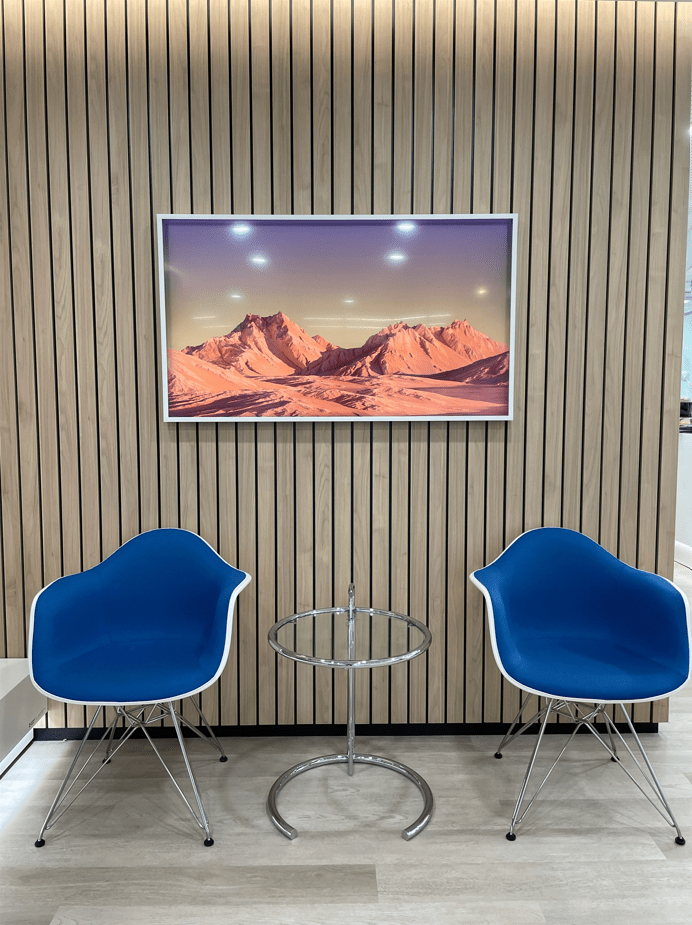 Chairs/Cushions
One of the best places to add a pop of color is with seating. This prominent furniture is found in both reception and treatment areas, allowing you to carry a color theme throughout the entire office. In addition, seating will need to be replaced periodically, giving you the opportunity to update to the latest trending colors.
Light Fixtures
Whether you choose a bold pop of color with overhead or table lamps or you opt for an interesting metallic like rose gold, lighting accessories offer a changeable way to add small pops of color in keeping with modern interior dental design.
Artwork
One of the easiest ways to add color and visual interest is with artwork. You could choose unobtrusive, abstract prints in limited color palettes to support a minimalist theme, opt for soothing classics like pieces from Monet's garden, or select one bold statement piece from a local artist, for example.
Plants
Adding greenery to your design can create associations with nature that imbue your space with a sense of happiness and relaxation. The caveat here is that it has to look fresh — wilting fronds or dusty leaves are not attractive. Whether you choose live or artificial plants, they will require some maintenance.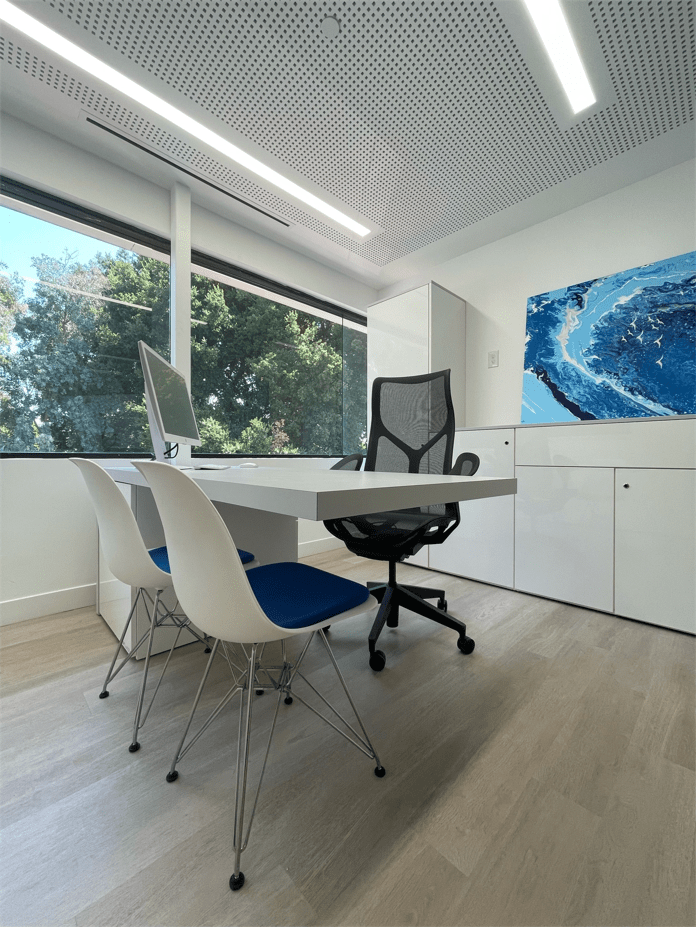 Neutrals Are Colors, Too
People tend to discount the role that neutral tones play in design and how they interact with the overall interior. For example, a bright, white office space can offer a clean and inviting ambience, but it can also feel spartan.
By adding elements in wood — from flooring to ceiling beams to a decorative slat wall, for example — you can bring subtle color and warmth into the environment. Metallic components like lighting fixtures and decorative touches have similar potential, and all contribute to an attractive and cohesive interior.
Wanting to update your dental practice with interior design? Contact us and an expert will be in touch soon. Let Kappler Design help elevate your office space.